To anyone who wants to step onto their path to health, I offer a variety of therapeutical treatments and preventive methods in my practice for holistic bodywork.
My holistic bodywork focuses on the mindful touch to support the healing process of my patients.
I see my work as complementary therapies that can help to
let body, mind and emotions find their own way to balance and health,
find a more effective way to cope with strain or physical pain,
explore new perspectives.
Feel free to contact me for a consultation.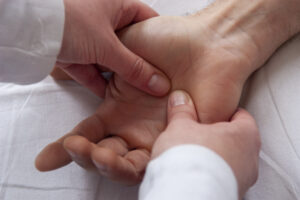 works mindfully with the tangible physical structures as well as with the energetic level of the body.
The specific touch of Shiatsu is applied by the thumb, the heel of the hand or the elbow. Dynamic techniques and gentle stretchings complete the treatment.
The dressed patient is treated on a futon.
Price per session: 70 €
is to balance movement and stillness.
The recipient starts in their own position that allows spontaneous movement to help body and mind let go of any tension and find a quiet state.
I accompany  the process either without any physical contact or by touching acupressure points to support the flow.
Price per session: 60 min 70 €, over 60 Minutes 90 €
focuses on the connection between skull and sacral bone via the spine.
Along that connection I search for areas of interest by firm or gentle touch. The heightened awareness in the relevant areas enables the body to release tension on the physical, mental or emotional level.
Price per session: 60 min 70 €, over 60 Minutes 90 €
Massage with essential oils
helps to release muscular tension, relieve areas of stasis and support the blood circulation of the whole body.
Individually selected essential oils stimulate or soothe senses and emotions and let the massage become a real treat.
The mild massage oils and the essential oils are from controlled organic agriculture.
Price per session: 70 €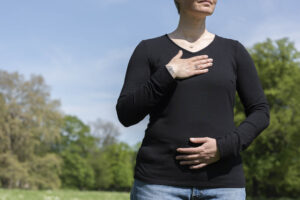 For all who want to enhance their mental and physical health actively I offer training courses. Most health insurance companies reimburse the fees.
I can also offer individual concepts for company workshops.
For further information about the training courses, especially if there are any scheduled in english , feel free to contact me.
Progressive Muscle Relaxation
suits mostly people in good contact with the signals of their bodies who trust deeply in their gut feeling when solving problems.
By training the awareness for the difference between tension and relaxation of certain muscles PMR enhances the mental wellbeing and the ability to relax willingly.
suits mostly people led by their head who meet challenges rationally and with mental discipline.
The method teaches a set of simple phrases to induce relaxation willingly, to increase resilience and reduce physical stress.
includes strategies of short- and long-term efficacy to cope with stressfull thoughts and situations more successfully and serenely – e.g. methods for time efficiency, mindfulness and relaxation.
on a massage chair allows the client to relax into a position that takes the strain from the lowear back, the shoulders and the neck – all the areas that suffer from long hours sitting at a desk.
Even short treatments of 20 minutes have distinct effects on tense muscles.
If you want to find out if mobile Shiatsu is right for your company or your event please contact me.
Copyright © Kirsten Bittner 2022